The Guide of Ethical Shopping
10 good tips to shop more ethically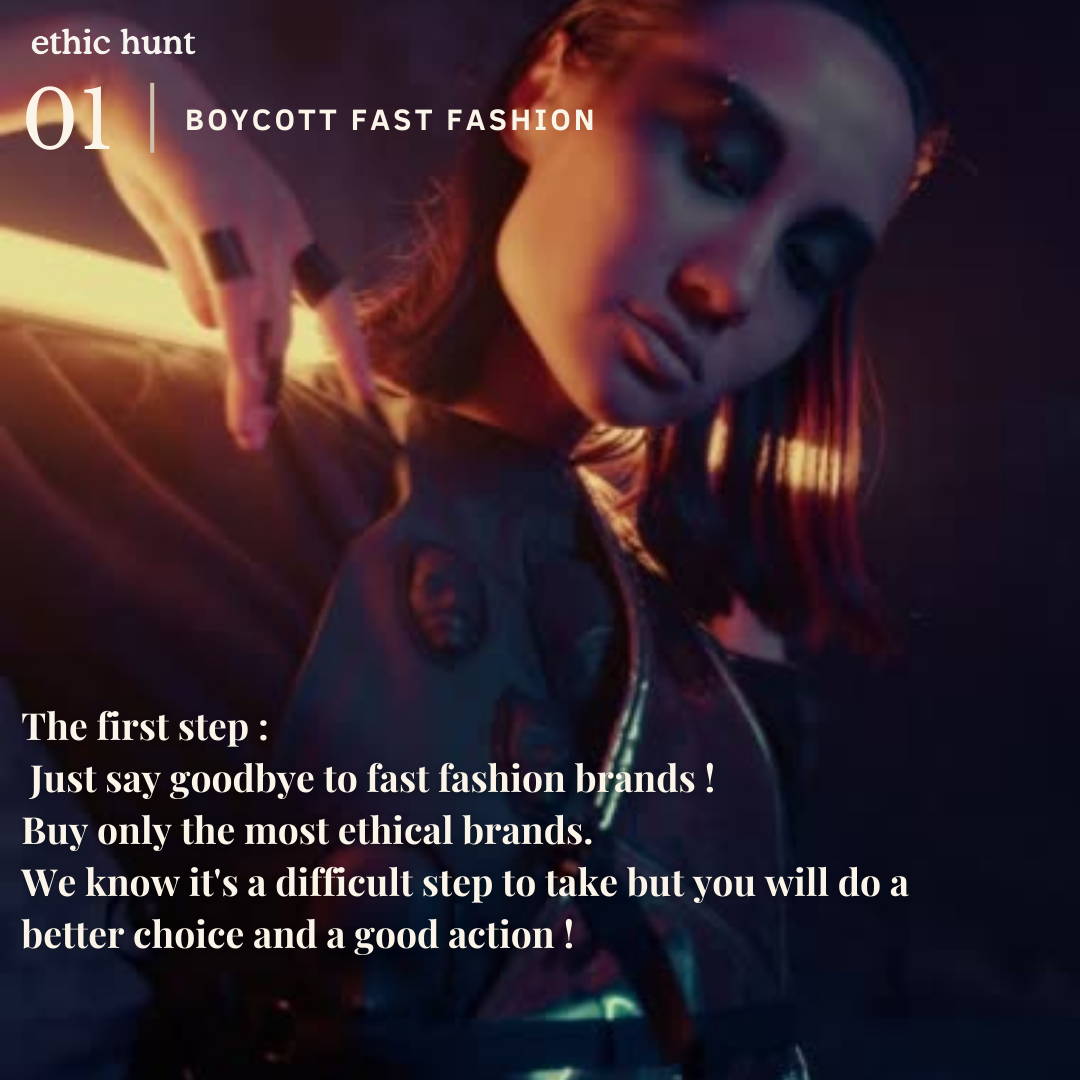 Tip 1 : say no to Fast Fashion
The most difficult step is the first one !
Change our old habits is not an easy thing but you have to do it to shop more ethically.
Before selecting clothes, check if the brand is enough ethical.
It will take few minutes on Web.
In physical store, ask the right questions : how the clothes are made ? Where ? Who made it ?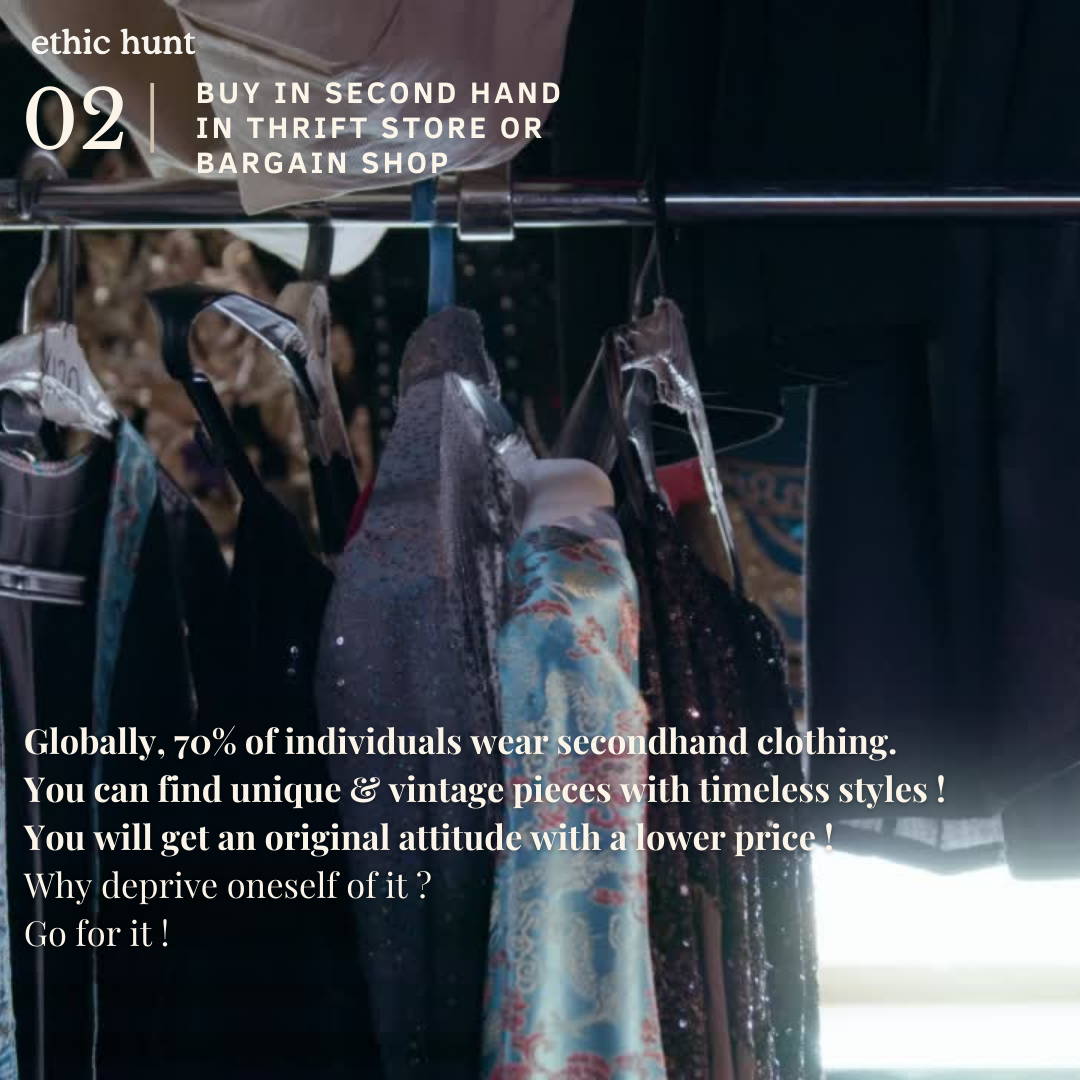 Tip 2 : Second hand is your new friend
Who said Second Hand was not enough trendy ?
70% of individuals wear second hand clothing.
You have the choice between website dedicated to second hand and physical stores like bargain shops or thrift stores.
We all know websites and famous and fancy thrift stores.
You will find vintage treasures : bags, coats, skirts that nobody could have on their dressing !
The benefits :
- the price
- timeless styles & retro vintage looks
- the originality by unique pieces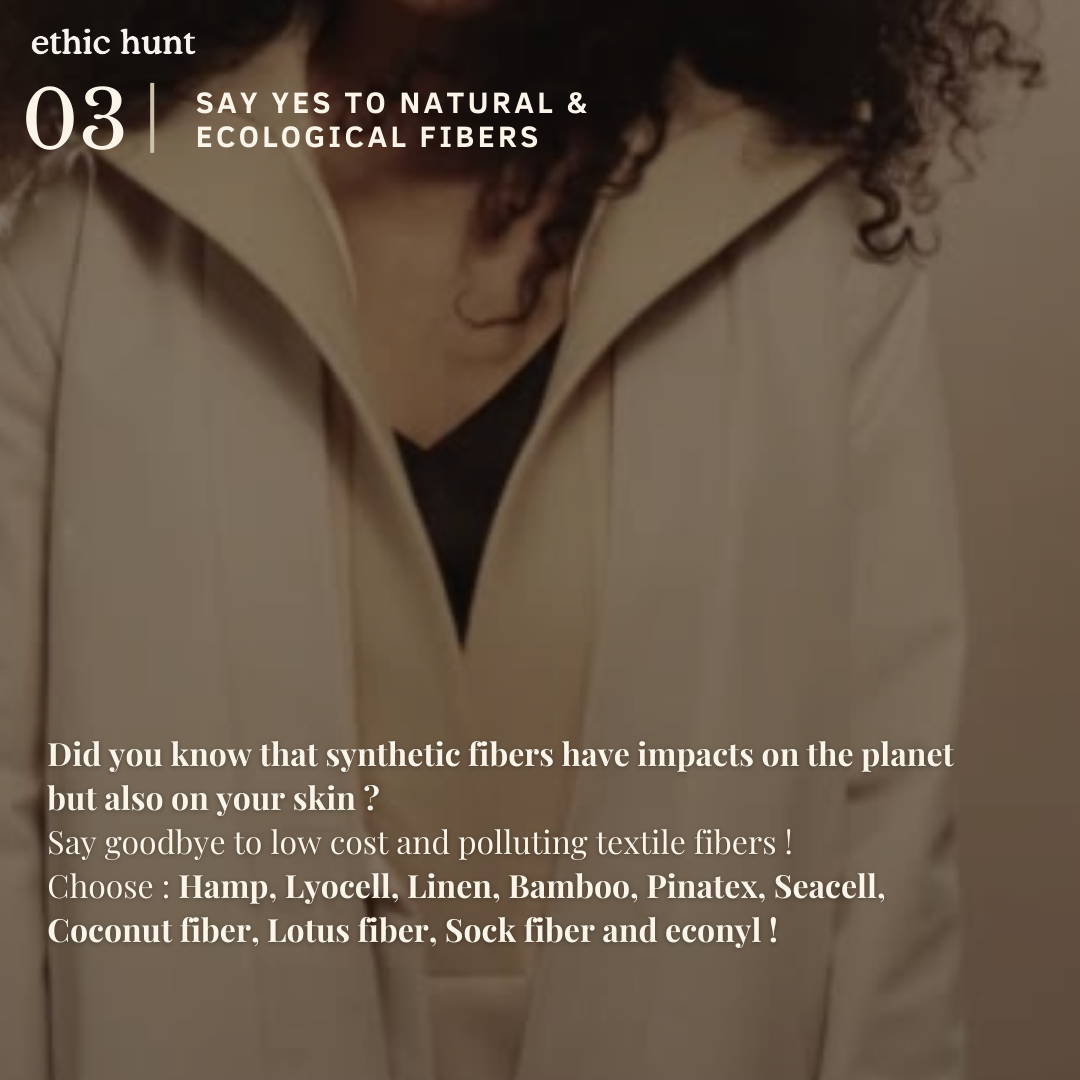 Tip 3 : Choose natural & ecological fibers
Did you know that polluting textile fibers like Polyester - the material of choice for its cost and resistance - devours 48 million tons of oil every year and, in total, all the materials used in the world's textile manufacturing (cotton, polyester, acrylic...) produce 1.2 billion tons of this CO2 per year.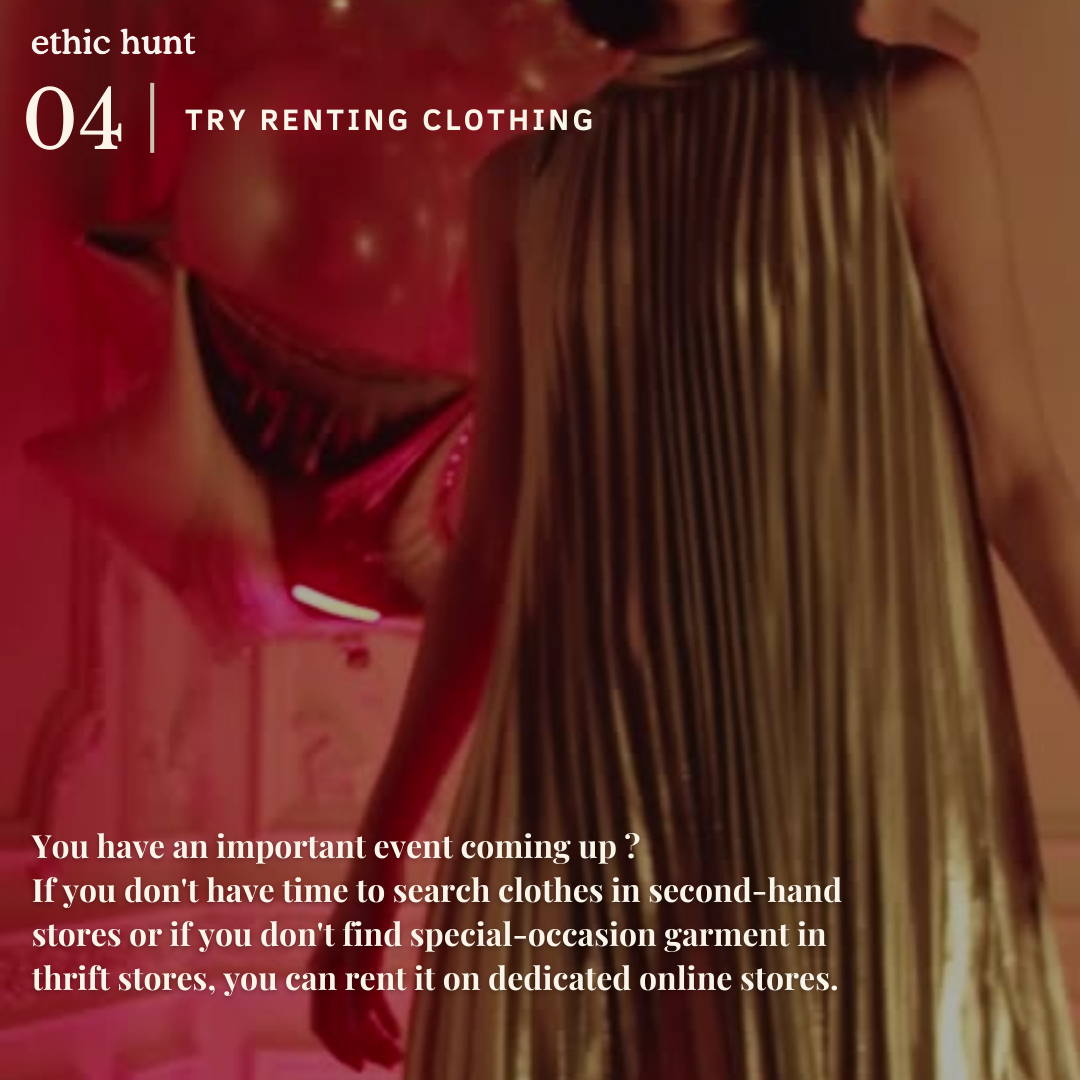 Tip 4 : Rent your clothes for occasional events
Rent clothing is a quicker method than second-hand to get a beautiful piece.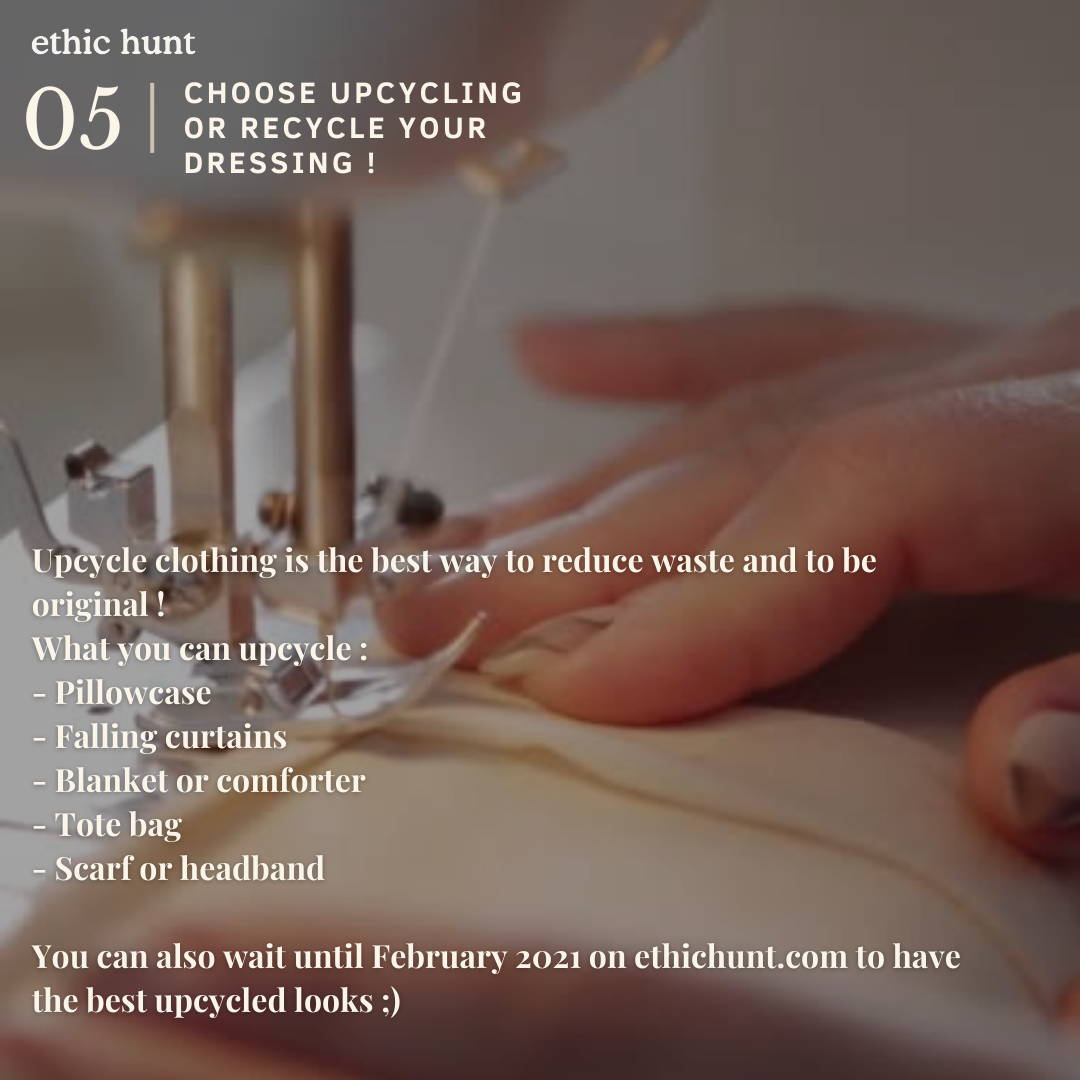 Tip 5 : Shining with upcycling !
Do you know Upcyling ?
It is the concept of re-use (discarded objects or material) in such a way as to create a product of higher quality or value than the original.
At Ethic Hunt, we believe in upcycled fashion thanks to wonderful fashion designers who have designed extraordinary unique pieces by recycling !
They have succeed to reduce waste and create unique and timeless styles thanks to Recycled Fashion.

How they craft the products ?
They upcyle, pillowcase, falling curtains, blankets etc.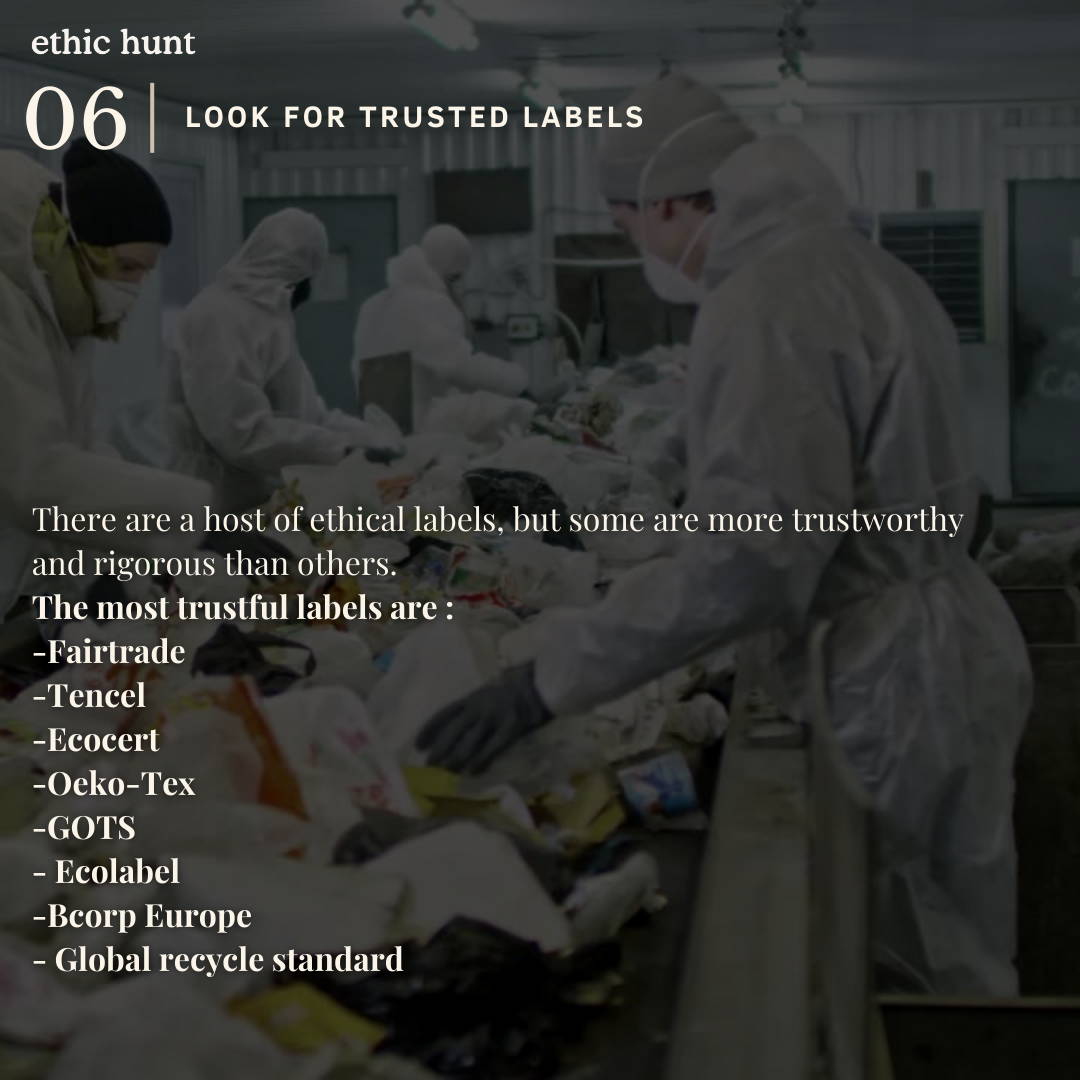 Tip 6 : Trust the ecological labels
Sometimes it is hard to believe in what the brand will tell you.
It could be only greenwashing or storytelling.
The right solution is to check the ethical & environmental labels !
In a previous blog posts, we have talked about the main labels you should trust first ! Link of the Blog post
At ETHIC HUNT, most of our partner brands have been certified by these trusted labels.

See more about our selections !
At ETHIC HUNT, we value the " Made in Europe " and we deliver only in Europe.
Why ?
- We would like to help the europeans shop locally.
- We decide to limit our carbon footprint
- We want to ensure the best quality in customer service
- Our goal is also to augment local community and create more jobs in our area.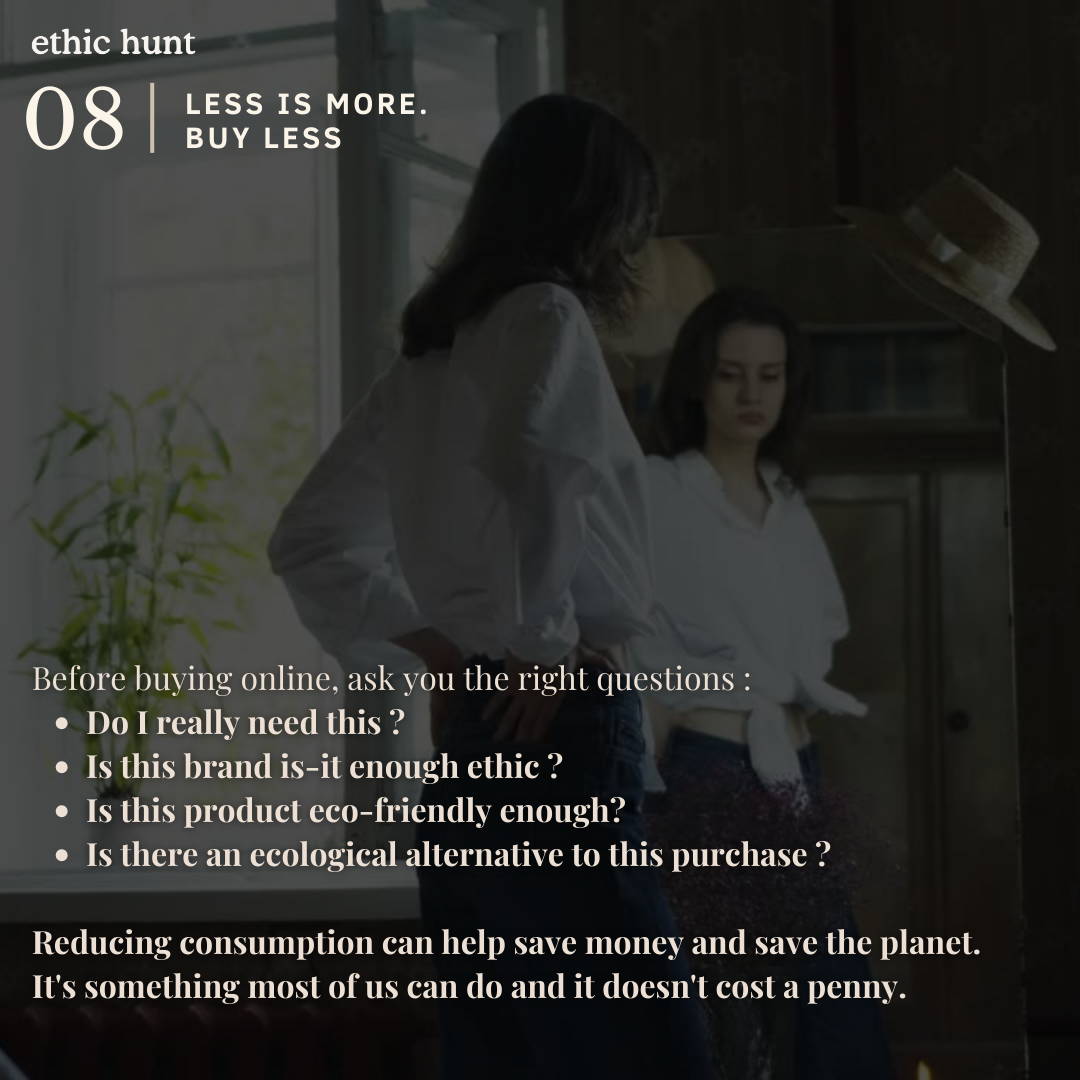 Tip 8 : Less is more. Buy less and make it lasts.
Our goal is not to only to sell beautiful and ethical clothes.
Our mission is to help you to have the right act of purchase.
At ETHIC HUNT, we believe in holistic beauty and mutual support.
We also know that buying online could be more difficult than in physical stores for mulitples reasons : you can try your clothes directly, you can check touch the clothes and you haven't the help of a seller when you hesitate !

We help you to have the best customer service online and we support you to answer your ethical questions before buying clothes.

We also believe in quality instead of quantity.

At ETHIC HUNT, 100% of our selection is ethic.

Go check our selections !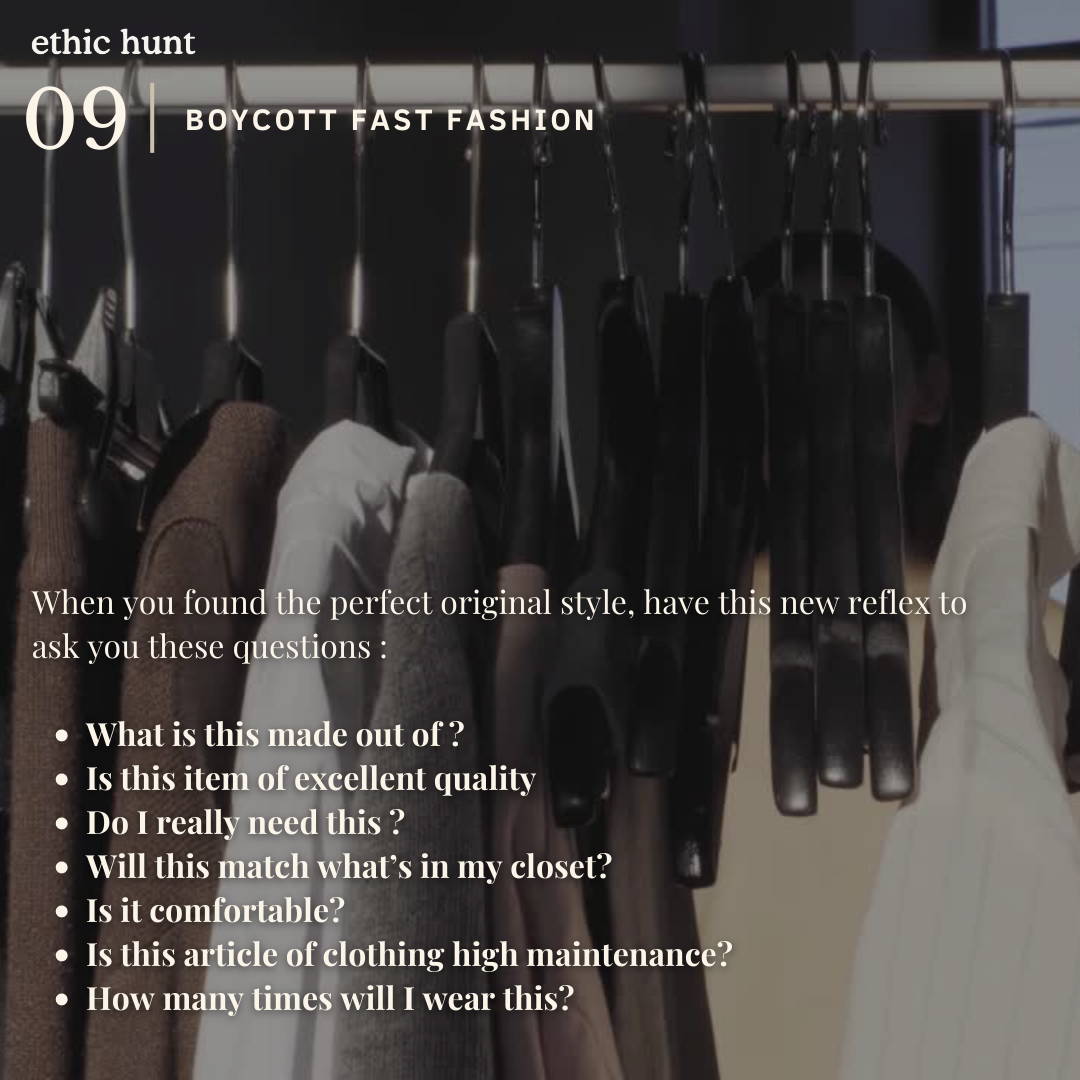 Tip 9 : Watch out carefully the "Ethical Fast Fashion"
Did you know that 32 Fast Fashion giants have signed the Fashion Pact, a series of commitments to protect the climate and biodiversity through the use of 100% renewable energy by 2030 and a CO2 neutral emission by 2050.

It is a good action from these actors who thrive on change but ask you the right questions again, because sometimes you can have surprise after buying a ethical t-shirt or coat !

The questions to ask you :
- What is this made out of ?
- How they made it ?
- Is this item of excellent quality ?
- Who made this clothes ?
- Is it comfty ? Is it my style ?
If you don't want to ask you these questions, go check our ethical selections !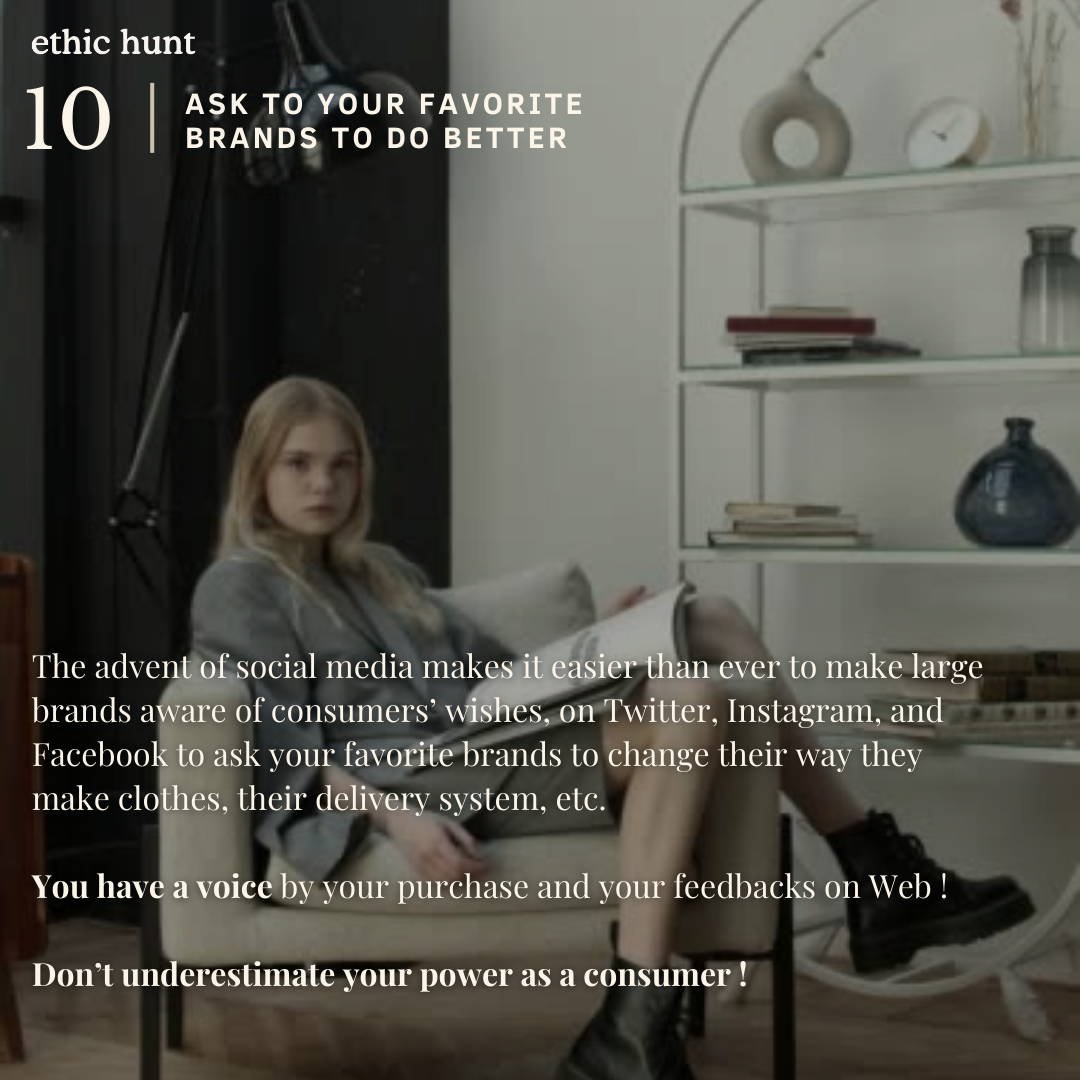 Tip 10 : Ask to your favorite brands to make it better
Who said the consumer has no voice ?
In our times, it is so easy to discuss with customer service of giant brand you like but who are not always ethical.
If you really like this brand, go ask them for additional informations and suggest ethical improvements !